8x8 Launches Speech Analytics and Integration Framework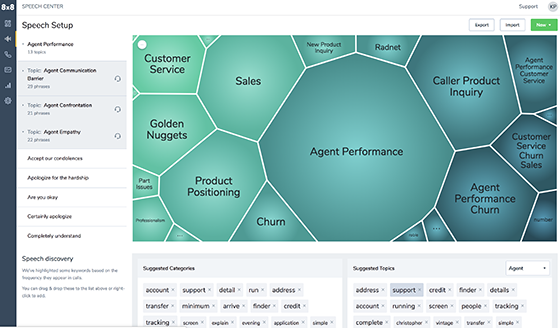 Herb Kelleher, the iconic leader of Southwest Airlines made an insightful statement about strategic plans:
"We have a strategic plan. It's called doing things."
We couldn't agree more with this sentiment. Working with customers, we've found that regardless of their goals, be it growth, digital transformation, operational efficiency, software development or even just replacing outdated phone gear, there is clear theme—success depends on the speed of execution. How fast they are able to respond to each other, partners and customers, the time it takes to bring new products and capabilities to market or using automation to drive scale—speed is the new battleground. The ability to get things done quickly is key to keeping up.
We announced X Series just 6 months ago, but the teams have been very busy "doing things" since then. We have exciting new launches today including 8x8 Speech Analytics – automatically providing sentiment analysis on 100% of your customer calls; enhanced Integration framework – making it easy to embed communications into your business processes. Let's take a quick look at each.
Speech Analytics for Contact Centers
8x8 X Series has enhanced speech analytics to provide voice of the customer insights, enabling companies to optimize customer experiences through data-driven decisions. Businesses gain instant insights through predefined categories, topics and hundreds of predefined keywords and phrases, eliminating expensive professional service fees associated with competitive solutions.
Recorded customer interactions contain a vast amount of untapped data that gets to the heart of your customers' concerns. With 8x8 Speech Analytics, automated speech-to-text transcription extracts valuable insights from these unstructured voice conversations. Listen to the voice of ALL your customers—search for keywords and phrases and drill down to the details to learn what makes your customers happy…or frustrated.
Speech Analytics is part of 8x8 X Series that provides managers with instant access to the information they need to better align resources with activity, deliver fact-based coaching and intelligently automate call routing.
| | |
| --- | --- |
| Analytics Features | Description |
| Company summary dashboard | See a consolidated view of numerical and graphical details about call activities and metrics for selected dates. |
| Extension summary | View more than 20 selectable columns of detailed information on call activity by extension. |
| Call detail records | Get historical information about all calls processed in the selected time frame, including real-time missed and abandoned call details for quick call-back—to avoid missing leads or customer service opportunities. You'll also see the caller's entire customer journey throughout the organization, including call transfers—to help increase customer satisfaction. |
| Active calls | See real-time information about all calls currently being processed within the organization. Details include the caller's journey through the organization up to that point. |
| Unreturned calls | Match inbound calls to outbound calls to find unreturned calls within the selected date range. |
| Calls by DID | Select and view detailed information for all direct inbound numbers (DIDs..) |
| Service quality analytics | Status on endpoints, MOS scores and summary graphs. |
| Supervisor analytics | Reporting on call queues, ring groups and agent performance. |
| Wallboards | Provide a real-time view into critical contact center metrics. |
| Contact center analytics | Analytics to know what is working and to fix what isn't. |
| Customer experience analytics | VIsibility into customer interactions and IVR usage. |
| Quality management | Performance management tool built around collaboration and coaching. |
| Speech transcription and analytics | Provides voice-of-the customer insights for 100% of calls. |
| Workforce management | Improve staffing efficiency. |
Power your Ecosystem with Communications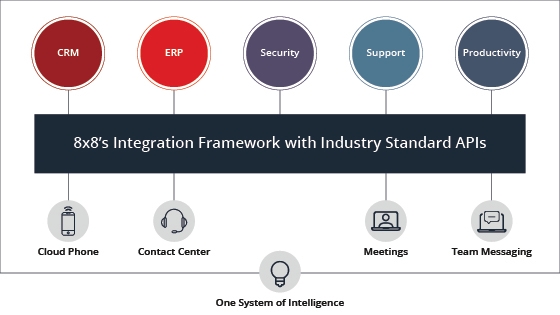 8x8's new integration framework is powered by microservices and industry-standard APIs, making it easier and faster to embed communications into CRM, ERP, helpdesk and productivity applications to create one system of engagement. Our customers and partners are able to accelerate responsiveness, enable company-wide engagement and provide data-driven insights, empowering their employees to deliver exceptional customer experiences at the speed of conversation.
Integration with CRM systems: Gartner predicts that by 2021, CRM will be the single largest area of spending in enterprise software. However, a considerable number of CRM projects fail every year due to low adoption and delayed ROI. Integrating communications with CRM environments means contact center agents and sales reps can take, make and transfer calls in one UI, enabling faster, more personalized engagements. Here is a video showing the user experience when 8x8 Contact Center is integrated into Salesforce. Also, check out our easily deployable integrations with Bullhorn and Microsoft Dynamics 365.
Integration with productivity applications: Email, phone systems and collaboration applications are among the most used tools in the workplace. Let's talk numbers: Employees on average spend 28% of their workweek reading and replying to emails, 92% of all customer interactions happen on the phone and 50% of the global workforce is projected to work remotely by 2020 (sources: McKinsey, Salesforce, London Business School's Global Leadership Summit). Integrating 8x8 communications with our new integration with Slack and other productivity applications such as G Suite, Outlook, Office 365 and Skype for Business is quick and easy with the open API-based integration framework.
Integration with service, support and infrastructure: The ability to easily integrate 8x8 communications with service and support applications such as Zendesk and ServiceNow ensures agents have instant access to relevant information at the speed of the conversation. Integration with infrastructure applications like Okta and SD WAN solutions like Aryaka and Silver Peak ensure security and ease-of-use with single-sign-on and a consistent call experience over inconsistent networks.
To learn more about our integrations, click here.